Introduction
Undertaking of short course on fish farming has gradually evolved overtime at Sokoine University of Agriculture (SUA). Initially, the training focused on imparting knowledge and skills on tilapia fish farming but was later expanded to include catfish farming. Recently, the training has progressed to impart knowledge and skills not only on fish farming perse but also covering production of fish fingerlings for ensuring availability of good quality farm fish.
Photo 1: Participants of the short course on 'Catfish Farming and Production of Catfish Fingerlings' posing for a group photo at the closing ceremony held at ICE with the Guest of Honour- Prof. Sebastian Chenyambuga- the Head of DAARS (6th from left, second row), along with Dr. Hieromin Lamtane (4th from left, second row) of DAARS- the anchor trainer of the short course.
New development on fish farming training
Consistent with the new development of offering training on production of fish fingerings, the Institute of Continuing Education (ICE) in collaboration with Department of Animal, Aquaculture and Range Sciences (DAARS), College of Agriculture (CoA) recently conducted a short course on 'Catfish Farming and Production of Catfish Fingerlings'. This course was conducted at ICE, SUA from 16th-20th December 2019 and attracted a total of 30 participants (30% females). Trainees of the course included fisheries professional from Fisheries Education Training Authority (FETA), Tanzania Fisheries Research Institute (TAFIRI) and Fisheries Officers from District Councils. Other participants were farmers and entrepreneurs from Dodoma, Kilosa, Kilombero, Kibaha, Dar es Salaam, and Morogoro Municipality. The course was conducted as a collaborative undertaking involving SUA, TAFIRI and Kingolwila National Fish Farming Centre.
Main objective of the training
The main objective of the training was to impart knowledge and skills on catfish farming and artificial propagation of catfish fingerlings to short course participants as strategy for contributing to improved food security, income and employment amongst trainees
Learning outcomes
At the end of training, participants were expected to acquire the following:
Catfish farming knowledge and skills imparted to trainees

Artificial Propagation of African Catfish knowledge and skills acquired by participants

African Catfish fingerlings produced by participants after the training

Fish farming short course opportunities available at SUA promoted in the country
Training methodology
The training constituted practical and theory sessions for imparting knowledge and techniques required for production of fingerlings. Practical sessions were conducted at SUA Magadu Fish Farm and Hatchery
Topics covered
The topics covered include the following:
Understanding reasons for good fish farming practices

Biology of catfish

Catfish researches in Tanzania

Status of fish fingerlings availability in the country

Steps for production of catfish fingerlings

Raising of catfish parents

Practical on pituitary extraction from male catfish and injection of the hormone to female catfish to induce maturity of the eggs

Practical session on stripping, milting, fertilization and incubating of the eggs

Rearing of hatchlings, larvae and fish fingerlings

Catfish farming practices in fish ponds (grow out ponds)

Practical on preparation of live food for catfish fingerlings

Processing and marketing of catfish

Diseases of fish

Management of hatchery
Selected photos of the short course
Photos 2: Indoor fish farming facilities (top and middle) and aquaponic demonstration (bottom) at SUA Magadu Fish Farm and Hatchery
Photos 3: Striping of mature eggs from female parent catfish (top) and stripped eggs (bottom) for incubating at hatchery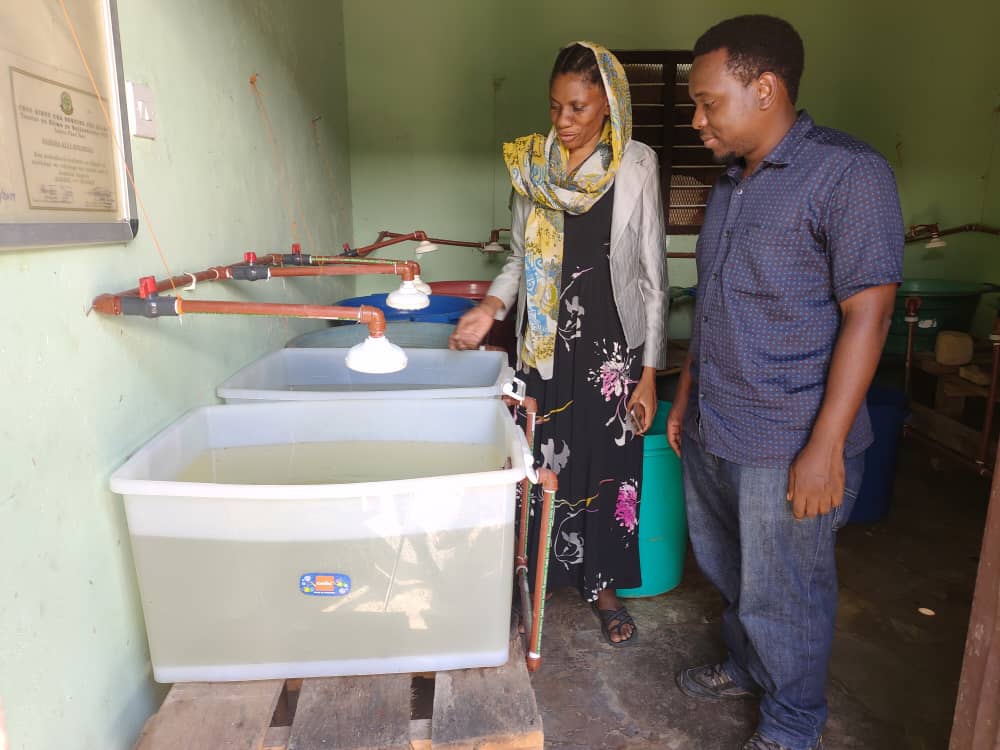 Photos 4: Fish hatchery at SUA (top) and Rehema Mwaluka's hatchery in Kibaha (bottom) along with her fellow SUA trainee Ben Ngatunga who paid a visit at her hatchery days after completion of the short course
Photos 5: Prof. Chenyambuga, the Guest of Honour (left, center) (along with Dr. Lamtane) presenting a certificate of participation to one of the short course participants (right) on 'Catfish Farming and Production of Catfish Fingerlings' during closing ceremony held at the ICE, SUA on 20th December 2019
Key lessons learnt in conducting fish farming short courses
The demand for short course on fish farming is growing. Organizers of the course had decided to split the number of applicants into different training periods so that the number of trainees in a single batch stays within the range that allows imparting practical skills

The range of applicants and participants is broad, constituting small scale farmers, entrepreneurs, medium scale company owners, staff from NGOs and public sectors, including those preparing for their retirement from work. Individuals attending and applying for the fish farming training courses possessed varying academic qualifications including professors, PhD holders, Master Degree Holders, Diploma Holders, Secondary School Leavers and Standard Seven. This diversity of beneficiaries call for consideration of training packages that suit each category of people so that fish farming is practiced widely thereby contributing to employment, food security and increasing household income.

Outreach activities are inherently collaborative in nature. Partnership between ICE, DAARS (CoA), public institutions and private sectors have provided opportunity for strengthening provision of short courses by ensuring that both practical and theory are covered for ensuring that the knowledge acquired during training is put into practice. In particular, collaboration between ICE and CoA in offering fish farming short courses has laid down a blue print that can be adapted in offering short courses in other disciplines across the University.

Interaction and sharing of experiences among training participants has revealed that policy and institutions play a vital role in promoting fish farming in Tanzania
ICE future strategy in undertaking short courses
The ICE plans to do the following during the next short courses:
Organize short courses both at the University campuses and elsewhere outside Morogoro having demand for fish farming training

Organize short courses targeting specific category of beneficiaries, for example, staff preparing for their retirement from formal employment

Strengthen both internal and external collaboration for out-scaling practices of fish farming in the country as a way of contributing to national and global objectives of attaining inclusive development that reaches marginalized communities, attaining zero hunger and eradication of absolute poverty.
Acknowledgement
The ICE and DAARS would like to express sincere gratitudes to the project titled, 'Development of Appropriate Hatchery Technology for African Catfish in Tanzania' (headed by Dr. H. Lamtane) for providing financial support that subsidized part of the short course participation cost. The project had received financial support from Tanzania Commission of Science and Technology (COSTECH).
For more information about this article please write an email to Dr. Innocent H. Babili at ibabili@sua.ac.tz